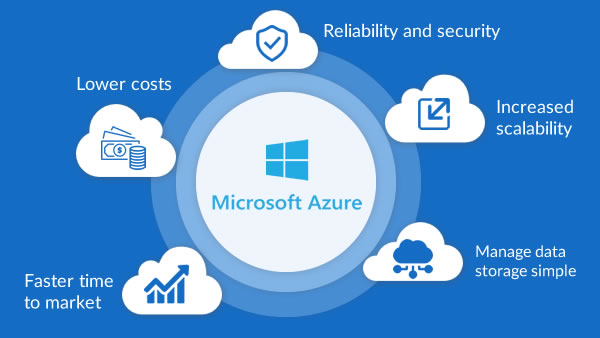 Nearly two-thirds of 500 companies use Microsoft Azure for their cloud computing, and an average of 1,000 customers are choosing every day. The advantage of the cloud are well documented: choosing virtual machines in minutes, providing scalable and stable cloud storage, and backup and recovery solutions for the company.
But not all solutions work. Here reasons more companies are adapting Microsoft Azure.
Security
Microsoft grants some of the most advanced security technology in the industry so you can be sure that your data is safely protected. Microsoft has taken significant steps for assuring high levels of security in their cloud environment. Your Azure environment is protected with tools like Threat Intelligence, Advanced Threat Analytics, Azure Information Protection, and Multi-Factor Authorization. These technologies help you analyse threats in real-time, identify and take action to the doubtfull user and device activity on a network, and provide the top levels of security.
Microsoft takes advantage of its decades of enterprise software experience to implement and continuously improve security-aware software development, operational management, and threat reduction practices that are necessary for safeguarding your cloud.
Privacy
With Azure, you have rights to own and control the collection, use, and distribution of your customer data. Microsoft provides in-depth information on how they will take care of your data. You know how they are going to manage your data, who has access and on what terms, and where it is geographically located. Microsoft will not reveal your customer data hosted on Azure to a government or law agencies except as you advise or where required by law. It goes only to the owner of that data.
High Availability and Scalability
Dissimilar to many other cloud service providers, Azure provides high availability and redundancy because of Microsoft's vast global footprint. With data centres located in all parts of the world, Azure can offer service level agreements guaranteeing 99.95 per cent uptime. This amount is less than 5 hrs in a year.
Similar to other cloud services, Azure can scale up or down to meet the requirement of your company. Azure makes it simple to change the level of computing power needed with a mouse click.
Cost-Effectiveness
Azure offers a pay-as-you-go payment plan that allows businesses to have better control over their IT budgets since they purchase what is required. Applying Azure to take advantage of SaaS applications also minimise the costs of infrastructure, and management, maintenance of your IT environment.