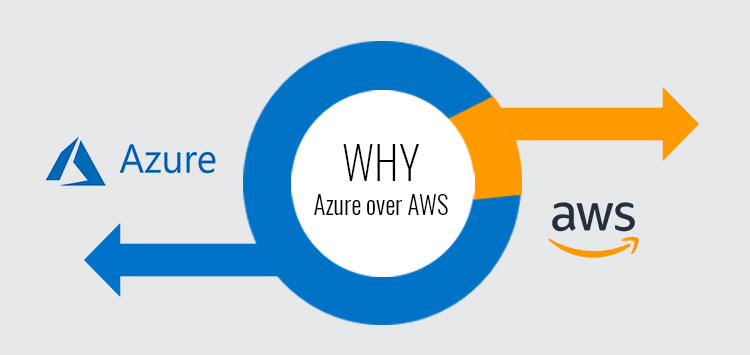 Microsoft Azure and Amazon Web Services (AWS) feature in the Leader's quadrant on Gartner's 2015 Cloud Infrastructure-as-a-Service (IaaS) Magic Quadrant. It is a big feat for Microsoft as Azure entered the Cloud Computing scene only in 2010, whereas AWS was introduced in 2006. Azure has made essential changes in the past few years. It now offers several features and capabilities far surpassing its competitors.
The following are some essential aspects where Azure has advantages over AWS.
PaaS Capabilities
Both AWS and Azure offer similar IaaS capabilities for virtual machines, networking, and storage. However, Azure provides stronger PaaS capabilities which are essential for Cloud infrastructure.
Microsoft Azure PaaS grants application developers with the tools, environment, and building blocks that they need to develop and deploy new cloud services rapidly. It also allows the vital 'dev-ops' connections which are essential for monitoring, managing, and continually fine-tuning those apps. Azure PaaS, more of the infrastructure management is preserved behind the scenes by Microsoft. Due to this, Azure development assure for a 100% focus on changes.
.Net Compatible
Azure's Compatible with the .Net programming language. It is one of the most valuable advantages of Azure, which gives Microsoft an edge over AWS and the rest of the cloud service provider. Azure has been created and optimised to work consistently with both old and new applications developed using the .Net programming framework. It is much more comfortable and straightforward for companies to move their Windows applications to Azure Cloud as opposed to AWS or others cloud service providers.due to this the several organisations that use .Net based apps, Azure is a perfect choice.
Security Offerings
Azure design is based on Security Development Lifecycle (SDL), which is an industry-leading confident process. It consists of security at its core and private data and services stay secured and protected when they are on Azure Cloud.
Microsoft was the first cloud service provider that is approved by the European Union's data protection authorities and the Article 29 Working Party, and it was first to take into account the modern international standard for cloud privacy is ISO 27018. Because of this, Microsoft guarantees the best safety for every operations and data on the Azure Cloud.
Hybrid solutions for logical Cloud Connectivity
Where Amazon is still testing the hybrid solution, Azure already has its hybrid capabilities. It smoothly connects datacenters to the Cloud. Azure provides a stable platform which facilities easy mobility between on-premises and the public Cloud.
Unlike AWS, hybrid apps can be developed with Azure which can take advantage of the resources available within data centres, at the service provider's side, or within Azure. It supports a broader range of hybrid connections, including caches, virtual private networks (VPNs), ExpressRoute connections, content delivery networks (CDNs), and to improve performance and usability.
Combined Environment
Azure brings to the table a combined environment for deploying, testing and developing cloud apps. The selection of frameworks depend on the client, and open development languages further add to the adaptability for Azure adaption. Additionally, readymade services like mobile, web, media in addition to templates and APIs can be leveraged to start Azure application development. Azure PaaS brings together all the data, devices, applications and partners, both on-premises and in the Cloud. Its adaptable toolset is used for solving integration needs occupies from connecting mobile apps with on-premises LOB systems to integrate B2B payments with partners.
Gentle Learning Curve
AWS is widely perceived as being complicated. It is proved by the various user guides, tutorials, and troubleshooting documents. Vice versa, Azure allows the utilisation of the same user and loyal technologies that several companies have used and are still using today. These include Windows, Linux, virtual machines, Active Directory.
Furthermore, it provides useful tools like XCode, Hadoop, Github, Visual Studios, Eclipse etc. It also offers several third-party solutions, tools, and apps developed by partners on the Azure Marketplace. Due to this, the learning curve for the Azure Cloud is moderate.
The 'Enterprise Agreement' Advantage
If a company uses Microsoft software, then it has the 'Enterprise Agreement' with Microsoft. It is designated to get discounts on the Microsoft software being used as Microsoft mostly adjust these agreements to lesser the pricing of Azure. So, with the enterprise agreement, the company can typically obtain notable incentives for using Azure.